What is AOD9604?
AOD-9604, which stands for "Advanced Obesity Drug," is a variant of human growth hormone's C-terminal amino acids #177-191. (HGH).
The N-terminal amino acid tyrosine, added to synthetic peptides to increase their stability and, by extension, their half-lives, is seen in the upper right corner of the diagram below.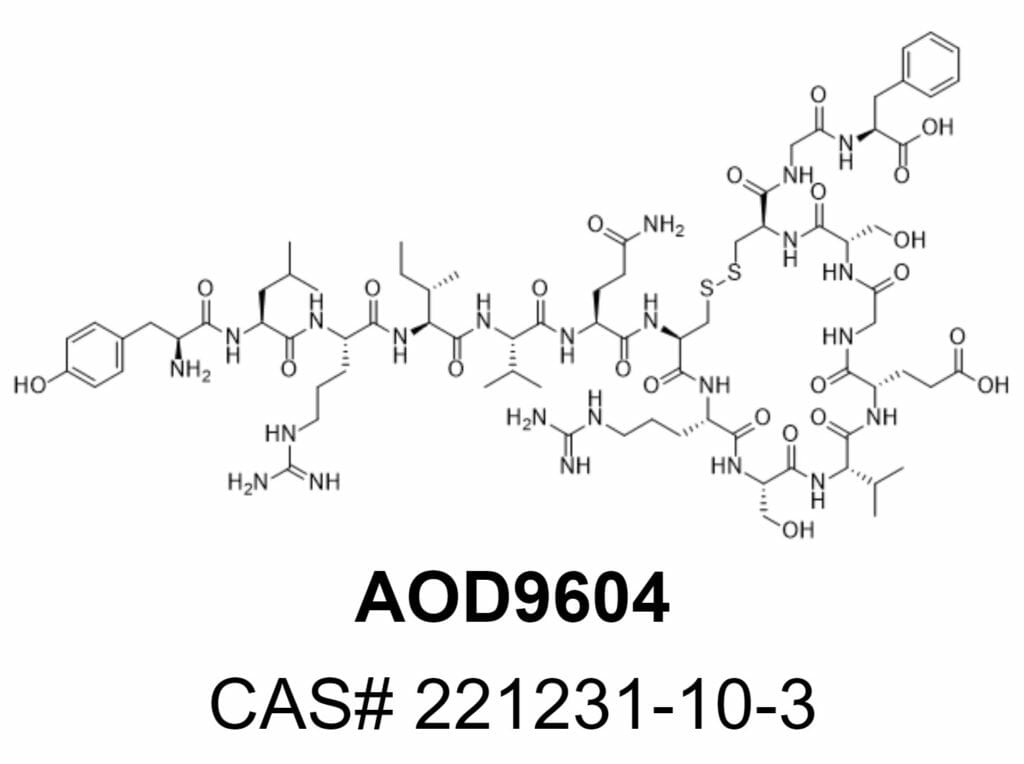 Sequence: H-Leu-Arg-Ile-Val-Gln-Cys-Arg-Ser-Val-Glu-Gly-Ser-Cys-Gly-Phe-Tyr-OH
Molecular Weight: 1817.1
PubChem CID: 16131447
Molecular Formula: C78H125N23O23S2
History of AOD9604
AOD-9604 was initially developed by Professor Frank Ng in 1997 at Monash University, Australia. Professor Frank, a biochemist, had been carrying out studies on human growth hormone since the 1960s. AOD-9604 was synthesized as a result of studies that were seeking to develop a drug that could produce the fat-burning (catabolic) effects produced by the natural human growth hormone but one that did not have its anabolic (muscle building) effects. Therefore, AOD-9604 is merely a modification of a fragment of the human growth hormone. After AOD-9604 was proven to be safe, effective, and did not possess the unwanted properties of HGH, an application for a patent was made in 1997 by Metabolic Pharmaceuticals, an Australian company. The company was granted the patent in 2003 and it consists of the peptide itself. With research on AOD-9604 being mainly focused on creating a potential drug in the treatment of obesity, after failure to obtain any significant weight loss results from six clinical trials that considered 925 patients, Metabolic terminated the obesity program in early 2007. The company has however shown that AOD-9604 could be a probable treatment for muscle, joint disorders (e.g. osteoarthritis), and cartilage. In clinical studies conducted by Professor Gary Wittert, Adelaide University, the study results showed that 60 percent of the subjects reported a euphoric effect and, as a result, Metabolic Pharmaceuticals patented the substance as an anti-depressant. In recent clinical studies, AOD-9604 has been shown to lower body fat in overweight, obese, and average built individuals especially in the mid abdominal region of the body.
AOD-9604 has proven to be very safe in most studies although most of them were short term. In a few clinical studies, obese individuals who were administered with AOD-9604 via injections reported cases of chest tightness, headache, euphoric feelings, and palpitations which the researchers thought to be caused by the administration of the drug. The researchers have not carried out long-term studies whereby subjects are administered with AOD-9604 via injections (subcutaneously or intravenously). The only data available on oral dosing is limited to studies that lasted only six months.
In studies performed by researchers at Monash University, it was established that the fat burning properties of GH seem to be regulated by a small area at one end of the GH molecule. The area is mostly made up of amino acids 176-191 and seems not to have effects on insulin or growth resistance. In its mechanism of action, this peptide replicates the manner in which natural GH controls fat metabolism, but it does not lead to any harmful effects on growth or blood sugar unlike with unmodified GH. This amino acid 176-191 inhibits lipogenesis and stimulates liposys as observed in scientific studies conducted on both animals and humans. Liposys is the process by which fat is broken down while lipogenesis is the process by which non-fat food compounds are transformed into body fat. In recent studies, it has been demonstrated that apart from fat reducing properties, AOD-9604 has more regenerative properties linked to GH. Clinical trials are being performed to confirm the potential application of AOD-9604 in bone and cartilage repair, osteoarthritis, and hypercholesterolemia.
In tests that were carried out on fat cells obtained from humans, researchers noted that AOD-9604 led to a release of fat particularly from obese fat cells with no effects on fat levels in the lean cells, improved the burning of fat, and lowered the accumulation of new fat in all fat cells. The researchers also noted that AOD-9604 lowered body fat in obese individuals and improved the burning of fat without inducing growth (mainly because it has no effects on IGF levels), or altering food consumption, or any other undesired GH effect. Based on these results, scientists have concluded that AOD-9604 is highly potent and effective as a fat burner.
In an animal-based study carried out by Ng FM1 and colleagues, AOD-9604 was evaluated for its metabolic effects in obese Zucker rats. When the rodents were orally administered with a dose of 500microg/kg AOD-9604 on a daily basis for 19 days, they showed a reduction in body weight of over 50% in comparison to the control group. The researchers observed an increase in lipolytic activity in the adipose tissues of the AOD-9604 treated group. When compared to chronic treatment with natural hGH, the euglycemic clamp techniques did not demonstrate any harmful effects on the sensitivity of the animals to insulin following chronic administration of AOD-9604. In this study, the researchers concluded that AOD-9604 had a high potential to be developed into a safe and orally usable therapeutic agent against obesity.
In scientific studies carried out on fat cells obtained from dogs, rodents, pigs and humans, AOD-9604 was observed to boost the burning of fat, release fat particularly from obese fat cells without similar effects on lean cells, and inhibit the buildup of fat in all fat cells. In both rats and mice, AOD-9604 lead to a decrease in body fat in the obese rodents and improved fat burning with no alterations on food consumption, without stimulating growth, and did not cause any undesired effects of the GH. In recent studies, researchers have established that AOD-9604 is a very potent and efficient fat burner. These studies have also shown that AOD-9604 specifically targets the reduction of the unnecessary adipose tissues that include the abdominal region, boosting the body's lipid content, and increasing muscle mass.
One recent clinical study in which researchers administered 500mcg AOD-9604 to individuals who were over-weight, obese, and average built over a period of 30 days indicated a fall in levels of body fat within their mid abdominal regions. In other studies, researchers compared the efficacy of AOD-9604 to that of AOD9401 in respect to their ability to instigate lipolytic and anti-lipogenic activity. Currently, Metabolic is researching on AOD-9604 for its potential therapeutic use in the treatment of obesity.
AOD-9604 has been shown to play a key role in the increase of muscle mass, in the removal of excessive adipose tissues including those in the abdomen region, and boosts the lipid composition of the body. In vivo tests have been performed to test the effects of AOD-9604 in muscles of laboratory mice. Results from these studies have demonstrated that AOD-9604 leads to a short-term rise in levels of blood glucose and prolonged rise in levels of plasma insulin, and other fragments including 172-191, 177-191, and 178-191.
In an animal-based study carried out by Ng et al. (2002), it was established that 500mcg of AOD-9604 led to an increase in the lipolytic activities of the adipose tissues, and it did not indicate any adverse effects on blood glucose level. Also, despite mimicking the behavior of human growth hormone (hGH), it does not lead to hyperglycemia since it is not engaged in competition with hGH receptors. Based on these properties, scientists have proposed that it has potential uses in eliminating excess abdominal fat (a major characteristic of HIV-related lipodystrophy).
Currently, there are a number of studies being conducted at Mt. Sinai Hospital in Toronto, Canada by Professor Rita Kandel and Professor Marc Grynpas through their partnership with Metabolic. This proof of principle studies are focused on showing that AOD-9604 has: ex vivo anabolic effects on native tissues; in vitro enhancement of myoblast differentiation into muscle cells; and in vitro anabolic effects on chondrocytes and has the potential to boost the formation of cartilage tissue. In animal-based studies, Metabolic has established that AOD-9604 can initiate osteogenesis (the formation of new bone) in cell culture and that in animal models of osteoporosis, it can enhance the mechanical properties of bone. Considering AOD-9604's encouraging safety profile based on toxicity studies and its promising efficacy data from human clinical studies, there is a strong basis for the use of AOD-9604 in situations whereby bone repair is compromised. Some potential occasions whereby it is applicable include prevention of fractures (e.g. osteoporosis), signs that bone growth needs stimulation (e.g. in dental bone grafts or in spinal fusion), and nonunion fractures. In contrast with other products meant to help in bone repair, it may present better benefits since it can be administered orally, is highly safe to use and it promotes bone repair.
In a study that was conducted by Professor Marc Grynpas and colleagues at Mt Sinai Hospital (Canada), reports forwarded to Metabolic in 2011 indicated that in vitro tests had provided positive results in relation to AOD-9604's potential to stimulate the formation of bones in cell culture. Professor Marc Grynpas has also provided Metabolic with results from three different in vivo studies that involved ovariectomized rat models of osteoporosis. Results from another in vivo study by MDS Pharma that was similar to those conducted by Professor Marc Grynpas were also presented to metabolic.
The articles and information on products that may be found on this website are provided exclusively for the purposes of providing information and education. Only in vitro testing should be done using the products that may be purchased from this website. Research that is carried out in vitro takes place outside of the human body. These items are not pharmaceuticals or medications, and the Food and Drug Administration has not given its go-ahead for the treatment or prevention of any disease, medical condition, or ailment using them.
Additional reading sources:
https://medkoo.com/products/13753
https://pubmed.ncbi.nlm.nih.gov/8358331/
https://pubmed.ncbi.nlm.nih.gov/8118430/